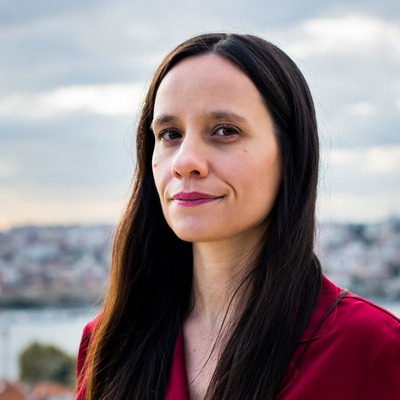 Elif Kamisli (born in Eskisehir, Turkey) is an exhibition maker and writer based in Istanbul, Turkey. She studied political science, cultural studies, and psychoanalysis in Istanbul and Rome. Kamisli has been the exhibition manager of the Istanbul Biennial since 2014. Currently, she supervises an art conservation and restoration project for the Theosophical Society, Adyar.
Her recent essays, titled "Sunday Posts", were published in the catalogue of the 17th Istanbul Biennial (2022). Her book, "Notebooks", was published by NEON Foundation, Athens and presented with an installation in the "PORTALS" exhibition in 2021. Kamisli co-authored "Best Wishes" with the artist Volkan Aslan in 2020 and was the editor of İnci Eviner's artist book "Co-action Device: A Study" (2014).
She was a member of the curatorial team for the "Colori" exhibition realised at GAM, Turin and Castello di Rivoli in 2017. The same year, she curated a digital show titled "I Dreamt a Dream the Other Night" for the British Council. She has organised solo exhibitions with international artists between 2011-2013. Kamisli worked as the assistant curator at MAXXI, Rome, in 2010 and collaborated with the 53rd Venice Biennial in 2009. She worked at Istanbul Bilgi University between 2004 and 2008.
Kamisli regularly contributes to Sanat Dünyamız, a leading art magazine in Turkey. Her essays embrace a personal narrative connecting daily life with history and different artistic practices. Kamisli, through her work in various formats, explores the connections between spirituality and art.